Ressources
Resources are vital for people with disabilities to overcome barriers, achieve independence, and enjoy equal opportunities in all aspects of life. Finding and connecting Members to many types of Intellectual and Developmental Disabilities (IDD) resources is an important role the Care Manager plays to create an inclusive society where everyone can participate and contribute to their fullest potential.
Outils de ressources
Des outils qui peuvent aider chaque personne à vivre sa vie la plus saine et la plus riche de sens.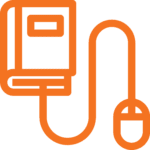 Connaissances
Centre
Documents et vidéos pour vous aider à comprendre le système d'aides et de services de l'État de New York pour les personnes atteintes de déficiences intellectuelles et de troubles du développement.
Outil de ressources communautaires
Thousands of IDD resources to help guide you to new opportunities that are the right fit for you.
Centre de service à la clientèle
Call the Customer Service Center for general information or help during regular business hours.
1-833-692-2269

"As a Care Manager, sharing resources to help with social, financial, and emotional needs is extremely beneficial to the Member and family."