Recursos
Resources are vital for people with disabilities to overcome barriers, achieve independence, and enjoy equal opportunities in all aspects of life. Finding and connecting Members to many types of Intellectual and Developmental Disabilities (IDD) resources is an important role the Care Manager plays to create an inclusive society where everyone can participate and contribute to their fullest potential.
Recursos
Herramientas que pueden ayudar a cada persona a vivir su vida más sana y significativa.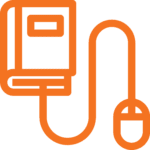 Knowledge
Center
Documentos y vídeos que te ayudarán a entender el sistema de apoyos y servicios del Estado de Nueva York para personas con discapacidad intelectual y del desarrollo.
Herramienta de recursos comunitarios
Thousands of IDD resources to help guide you to new opportunities that are the right fit for you.
Centro de atención al cliente
Call the Customer Service Center for general information or help during regular business hours.
1-833-692-2269

"As a Care Manager, sharing resources to help with social, financial, and emotional needs is extremely beneficial to the Member and family."